The AssessRep is intended to be a fortnightly piece that opens informed conversation and provokes structured debate. It will not attempt to follow the MOD line or to keep up with the latest defence jargon, yet nor will it be needlessly cynical or contrary. The chosen tone is optimistic irreverence. The readership is intended as those who are active participants in defence, sitting somewhere along the line of policy as it is enacted into reality. Ultimately, no matter how grand the plan, it all comes down to a single individual's action at some point. We aim to capture the rational overview and temper it with the necessary scepticism of those who are personally engaged globally as the agents of foreign policy.
The first AssessRep is due out on 30 Jan 19…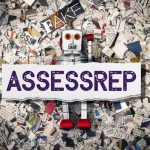 The Wavell Room would love to get to know your thoughts. Please email us at this link with your comments, thoughts, or carefully crafted vitriol. Do include a brief outline of your background – all messages will be read personally by the Assessrep editor.