Experimental Feature: Audio Read Version
The floor at DSEI – Defence and Security Equipment International,  the vast and controversial arms fair taking place in London this week – tells you immediately who dominates the defence industry.  Almost all attendees were white, the vast majority were male, and nearly everyone was overdressed in suits and business formal clothing. The innovative companies and individuals that I would have expected to be present were missing.  If UK defence wants to change, then the attendee list needs to start changing with it.
DSEI is the UK's premier event for the defence industry and gets companies from across the west (and elsewhere) to showcase what's up and coming in defence.  According to the homepage of its website, it "connects governments, national armed forces, industry thought leaders and the entire defence & security supply chain on a global scale."  
Except it isn't.  All sorts of companies are missing, particularly the small, mysterious, and most innovative companies that should be of most interest to defence.  Having these firms can be a huge driver for growth and discussion. In other industries, such marketing and software, it is as a result typical for conferences to offer discounts to small new startups, and for organizers and governments to actively engage with them to bring them to the floor.
In his keynote, General Patrick Saunders, head of UK Strategic Command, said DSEI should "solve operational problems together and create national strategic advantage by harnessing the latent talent and ingenuity that exists in industry, and allying it to those who will have to adapt and overcome these threats in future – for those in uniform."  
My feeling is the event falls short in its current form. That doesn't mean it isn't good.
The best thing is the people, both civilian and military, together with their openness and willingness to talk. The mixing of domains was stimulating, and it was good at highlighting trends towards autonomous systems and machine learning. But if UK defence truly wants this event to exude new ideas, they should have others there too.
Small firms drive interesting conversations about what is possible. I was hoping to see firms like Heron Systems/Shield AI, a DARPA funded company that built an AI that beat a human pilot in simulated tests, in a booth on the floor. This sort of cutting edge AI software is the driving force behind all of the conversations about autonomous platforms.  Firms like this definitely need support to expand into new markets.  Instead, AI conversations were dominated by booths by the big defence conglomerates like Northrop Grumman.
Since part of the point of conferences like this is for OEMs (Original Equipment Manufacturer, aka companies that make parts for other manufacturers) to meet larger, more important contractors and manufacturers and consultancies, I was also hoping to see innovative technology manufacturers, such as Sila Nanotechnologies or Cipher Skin, that push the boundaries of what is doable in field conditions generations ahead.
Sila Nanotechnologies makes an additive that allows lithium batteries to be ultra-efficient, shrinking down batteries and power storage to tiny sizes.  Cipher Skin is a low power cloth sensor mesh that I can wrap around critical technologies or even myself as a patient.  Both companies technologies are already appearing in consumer items – and they are pushing our interaction with technology generations forward.   Instead, I was confronted with manufacturers of old school generators and oversized chips and sensors.
I wish I could say I was surprised by this situation. I'm not. After all, startups in the UK representing the spaces I typically hang around in are worried about a lack of cultural and government support.  The US is only a tad better – procurement is still extremely difficult to navigate, and technology development has its own problems those involved say.
If defence wants real innovation, then it needs to start changing – starting with who shows up at DSEI.  if the UK gets this right and actively cultivates small startups, there's an opportunity for a more innovative and thought-provoking.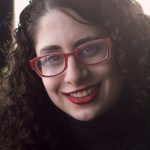 Shana volunteers as Wavell Rooms lead for marketing, communications and growth. When she isn't leading Wavell Room donation drives, Shana finds time to write the occasional article too.
Shana has a decades's experience of marketing for, brands large and small, consumer and B2B.  She gives classes about how to mix data and strategy. She loves high quality AB tests and terrible fish jokes.  You can subscribe to her newsletter here.