Experimental Feature: Audio Read Version
The recent surge of the Black Lives Matter movement following the killing of George Floyd by Minneapolis police has led to a range of responses from institutions across the world, and reactions to what they have – and haven't – said, and how institutions, including the armed forces and civil service should respond with substantive and specific reform.
Some people aren't happy with the current efforts of institutions and their leaders in this field. A statement by Lt Gen Ty Urch, Commander Home Command in the British Army attracted comments such as "virtue signalling", "politically correct", "positive discrimination" and "woke". If that is your reaction to a stated determination to push back against racism, hatred and division then you are either uninformed or prejudiced. If the former, look into this reading list –  if the latter, we don't have anything worth saying to each other.
If you are still there, then there is an important question about the ways in which institutions have responded. Even the most powerful institution derives its legitimacy from consent – from their engagement with the whole of society, and the respect, affection and relevance that come from this. An institution without legitimacy will fail. It has been quite shocking to watch a number of American police forces respond to protests about their violence with … increased violence. Their legitimacy has ebbed away so dramatically that some could cease to exist in their current form. At the other end of the spectrum, insofar as it is possible to tell from here in the UK, the legitimacy of the United States Air Force has been massively enhanced by its response. The powerful statements by General CQ Brown and Chief Master Sergeant Kaleth Brown, and engagement by General Dave Goldfein have shown an organisation where difficult conversations are, at least in places, being had and where more voices are starting to be heard.
In the UK, it has been disappointing to see inauthentic, tepid, bland or downright disingenuous statements from many high-profile institutions. A failure to, however belatedly, acknowledge your own privilege or role in perpetuating systemic inequality, and to make a specific commitment to addressing it will quickly jeopardise your legitimacy. All I have seen from Oxford University is a statement saying "we're committed to supporting our community in opposing racism in all its forms". It must acknowledge that its track record regrettably says otherwise. The British Museum says it "stands in solidarity with the Black community throughout the world". It doesn't mention that it's got a fair bit of stuff that belongs to those very communities, which wasn't donated voluntarily, and which its owners would like back, please. Incidentally, the Army might also wish to check whether it has any loot it should return.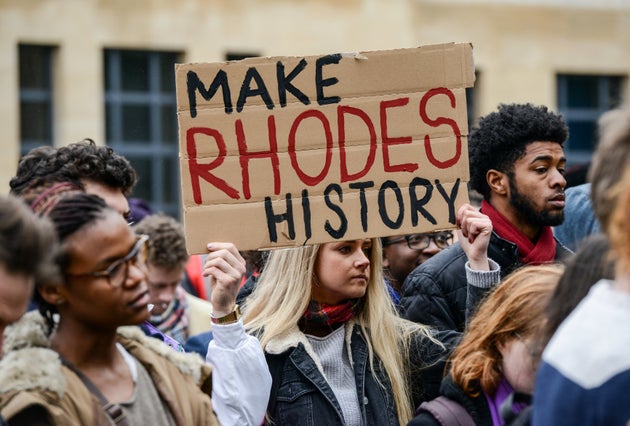 Contrast Oxford's statement with the personal statement from the Master of Jesus College Cambridge, Sonita Alleyne, which speaks to her personal experience and the actions which were already being taken by the College to address the issues it faced. Most other institutions, including the Armed Forces and Civil Service, fall somewhere between the good and the bad I have described – but they have at least acknowledged how much more there is to do, and committed to continuing on that journey with empathy and humility. Some people will, with justification, doubt whether institutions are genuinely capable of the scale and speed of change which is now rightly being demanded. After all, despite all the progress that has been made, they haven't changed far enough or fast enough before.
What is for certain is that the UK Armed Forces will have no chance of meeting this challenge if they listen to those who criticise their initial responses and commitments as "political correctness". Nor will they do so if simply try to redouble their investment in what is already in place – many existing diversity and inclusion initiatives do not bring about lasting and significant change, but instead maintain a feelgood status quo. Nor is it enough to say they will listen to their people and diversity networks. Listening without openly and decisively committing to reform has no meaning. Moreover – in case you haven't noticed – those most affected by structural racism are fed up of having to do the emotional labour of explaining how it feels to be systemically disadvantaged.
Defence must do what the British Museum and Oxford University have so far failed to do – naming and addressing the specific problems within your institution. A key issue to resolve is the under-representation of non-white people in senior ranks and grades, with all of the consequences that carries for the organisational culture and attention to and understanding of these issues.
And what about individuals within these institutions? A few years ago, I had a platform to speak on race issues in my institution. The first thing I did was talk about the importance of recognising my white privilege in doing so. I received a lot of criticism from white people who said this was too adversarial. I did take some notice of this criticism. But far more important was the feedback of black colleagues who welcomed the fact that I was, at least relatively speaking, telling it like it was. If I had the chance again, I would have pushed much harder. So, do not let these issues be the ones that are the first to get parked in a crisis. Redressing structural inequality demands painful and long-term effort. Paying lip service to the issue or consigning it to the last agenda item fails our personnel, reduces our capability, and damages our country. We must speak up. We must be bold, demanding, and persistent. Anything less would be a dereliction of our duty.
Rob is a former defence and national security civil servant