Experimental Feature: Audio Read Version
Shipbuilding was one of the worst hit sectors following the dissolution of the Soviet Union in 1991.  The legacy of this industrial disaster for 100,000s of workers and yards across the USSR (including Ukraine) persists to this day.  Russian maritime defence articles continue to make comparisons with that lost past.  The Russian debate is similar to British naval discourse constantly harking back to the navy that existed during the 1982 Falklands Conflict.
The sector has been under sanctions since 2014.  Post the February 2022 invasion, the sanctions regime has become far harsher.  This article reviews the impact of sanctions on Russian civilian and naval shipbuilding.
Civilian shipbuilding
In 2021 (last available data), the Russian shipbuilding market recorded a marginal decrease of 5% and was valued at 246 billion roubles ($3.4 billion).  Europe and South Korea were the two biggest markets, now both imperilled.  In 2022, according to INFOLine and reported by Russian business newspaper Kommersant, Russian yards delivered 20% fewer ships and vessels.1  Tonnage increased2 but this was due to half the deliveries accounted by large tankers produced by a single yard, Zvezda SSC, in the Russian Far East.  Just two 136,700 ton Aframax tankers for Sovcomflot and Rosnefteflot accounted for the majority of the increase.  However, Zvezda SSC now faces long term uncertainty.  Manufacture is partnered with South Korean yards.  Due to sanctions cooperation is being withdrawn.  Zvezda SSC is contracted to deliver 50-70 vessels in 2023.  Components for these contracts were secured in the spring of 2022, before sanctions were imposed.  What happens in 2024 remains an unknown.
Another firm in trouble is United Shipping Corporation (USC-OCK), the largest shipbuilder in Russia.  USC has been under sanctions since 2014.  For foreign projects, customers have insisted on foreign equipment.  In the words of a company spokesman, 'A number of these projects were implemented, and some difficulties arose with the supply of equipment and the participation of foreign specialists in its installation. Difficulties gradually increased until February 2022, and from February they took on a systemic character.'
An example of the direct impact of sanctions is the production of Project RSD 59 dry cargo ships.  In 2020 and 2021, 17 and 16 were delivered respectively.  In 2022 just four were produced because the German Shottel rudder propellers are no longer supplied.
Russian shipbuilding firms are pursuing initiatives to replace foreign components and technology with domestic alternatives (the policy of import substitution), or with imports from 'friendly countries'.  But replacing marine technology and creating new supply chains takes time.  Redesign adds costs and risks.  Shipbuilding enterprises are lobbying the government for support and subsidies.  There are discussions over removing VAT charges. The enterprises are also demanding scrapping fines for missed delivery milestones and fixing steel prices.  Most recently, Deputy Prime Minister Denis Manturov has instructed the Ministry of Industry and Trade and Ministry of Transport to prepare a long-term state programme to support the sector.  Civil shipbuilding only recently negotiated a state support programme estimated at 477 billion roubles.  An additional 100 billion roubles is now being touted to develop marine engines.
2023 will likely record another decline in numbers of ships and vessels delivered.  It would be exaggerated to state 2024 represents a cliff edge for Russian shipbuilding but it will reveal to what extent the sector has succeeded in beginning its journey of survival under the new and harsher sanctions regime.  Kommersant insider sources predict 'a deep crisis for the industry', and the prospects for import substitution within a reasonable time 'purely illusory.'
Kommersant's sources are not exaggerating.  USC recently announced, 'there are no engines for large-capacity vessels in the country, the need for them is estimated at dozens a year, and development can cost more than 100 billion roubles and take 10 years'[hence the bid for another 100 bln roubles].  The corporation added, 'sanctions have deprived the manufacturers of Russian units of the opportunity to use foreign components – crankshafts, fuel equipment, elements of the connecting rod and piston group, cylinder blocks.'  Mikhail Kryukov, Deputy Chair of the Board of the Association of Compressor Plants has added, 'The problem cannot be solved quickly, because there are no qualified personnel: technologists, machine operators.  There is a shortage of machining equipment. There is a problem with large-sized precision casting. Issues can be resolved within five years.'  The time frame may be optimistic and would rely on significant state support.
Naval shipbuilding
2021 was the best in eight years by tonnage for Russian naval shipbuilding with an increase of 15%, to 80,000 tons.  In overview, the Russian Navy was replenished with seven large warships, four surface ships, and three submarines.  In addition, the fleet received 17 support vessels and boats, 10 combat boats, and three Bastion coastal missile systems.
If 2021 was a good year, 2022 has been a disappointment and their worst performance since the first decade of the noughties when virtually no new-builds were being commissioned because of the crisis in naval shipbuilding.  Major commissioned vessels have included two submarines, one small missile ship, and two minesweepers.3  These are summarised in the table below:
The last three vessels were virtually commissioned by video-link by President Putin.  The timing of the commissioning (almost the last day of 2022) raises suspicions the event may, in part, have been a symbolic commissioning to demonstrate the sector was delivering warships and submarines despite sanctions.  At least in the case of ARPKSN Generalissimo Suvorov further trials and testing are likely before first launch of a Bulava ICBM.  RTO Grad may also undertake further crew training and firing trials.
Russian defence journalist Alexander Timokhin, who writes with authority for Voennoye Obozreniye ('Military Review'),4 is much less optimistic.  In January 2023 he wrote:
'The sanctions imposed on Russia after the start of the NWO ['special military operation'] will inevitably require a revision of the programmes for the construction of surface ships.  And the sooner the leadership of the Ministry of Defence, the General Staff and the Main Command of the Navy realize this, the fewer problems, financial losses, empty buildings…at shipyards and shame the country will see ahead.'
Timokhin identifies the following problems facing major surface ship programmes:
Kolomna diesel engines for frigates, corvettes and large landing ships: All these ship types share the Kolomna D49 diesel engine.  This is not an entirely domestic product (specifically, turbochargers and parts of the cylinder-piston group are imported and cannot be replaced by domestic counterparts).  In Timokhin's no-nonsense words:
'Illusions that it is possible to replace foreign turbochargers, pistons and rings with our own must be discarded immediately – in Russia there is simply no technical ability to provide the required level of machining of products, there are no necessary alloys, automation and precision mechanics.  In order for these problems to be solved, a separate state program is needed, in which there will be no place for all sorts of traditional Russian cuts, kickbacks, and most importantly, incompetence.'
In the case of Project 22360 Admiral Gorshkov-class, frigates, following sanctions and Ukrainian withdrawal of cooperation, a new marine diesel-gas turbine unit termed M-55R was developed.  ROSTEC Head Sergey Chemezov boasted to President Putin:
'We have created a new marine diesel-gas turbine unit M-55R, this is a new engine that is installed on our frigates. This is our first Russian such engine. We are already mass-producing it.'
He did not explain the M-55R diesel-gas turbine includes two units of the Kolomna 10D49 diesel engine for which parts are no longer available.  This is a serious double blow.  The Admiral Gorshkov-class frigates are the Russian Navy's premier surface ship programme intended as platforms for the Tsirkon hypersonic missile.  The programme has been stumbling along since 2003.  Currently only first-in-class Admiral Gorshkov has launched the missile which is expected to be formally accepted into service in 2023.  Construction of the frigates was set back in 2014 following refusal to supply Ukrainian Zorya-Mashproekt gas turbines.  It now appears the class is in trouble again.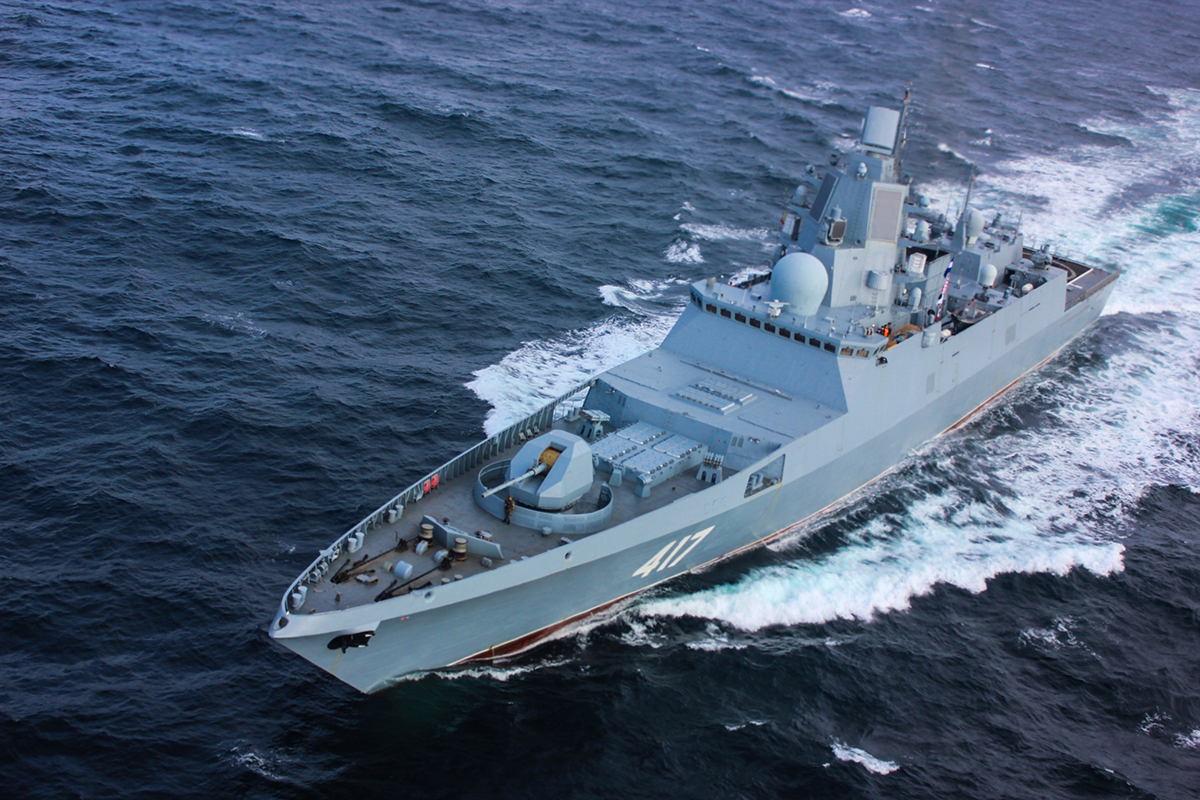 In the case of Project 20380 Steregushchiy-class and Project 20385 Gremyashchiy-class corvettes (MRKs), two 16D49 diesel engines and a gearbox form part of the main power plant.  These too are no longer supplied.  The modern Project 11711l Ivan Gren-class large landing ships (BDKs) – intended as the core capability for the naval infantry (marines) – are also affected by the inclusion of Kolomna D49 engines.
Zaslon JSC radars for Steregushchiy/Gremyashchiy-class corvettes: The Zaslon JSC radar complex for the Russian navy's Steregushchiy/Gremyashchiy-class corvettes (termed IBMK 'Barrier') includes foreign components no longer available:  'We can safely guarantee that Zaslon will not supply any [radar] complexes to those ships that have been laid down relatively recently…[and]…it will not deliver for the majority of those currently under construction.'
Composite superstructure for Steregushchiy/Gremyashchiy-class corvettes: the superstructure for these corvettes is made from composites that include foreign materials and technology (the in-build Provorny that was severely damaged by a dockyard fire in December 2021 is an example).  This poses problems as 'there is reason to believe that not all the components of the composites from which the superstructure of any of the corvettes is made are made in Russia and can now be obtained from abroad.'\
Electronic components in general:  According to Timokhin: 'The sanctions imposed on Russia after the NWO ['special military operation'] left a sharp imprint on the country's technological capabilities, primarily in terms of components for electronic systems. The production of radar complexes, communication systems, guided missiles, sonar equipment and other similar systems proved to be difficult.'  There are import substitution alternatives but with delays and increased costs.
Alexander Timokhin may be over-pessimistic or perhaps honest.  In his verdict, Steregushchiy and Gremyashchiy-class corvettes will be impossible to build in the future.  Sustainability of the completed ships may also prove problematic.  Admiral Gorshkov-class frigates will be completed with delays but the class may end with the current builds.  And a question mark hangs over the new Ivan Gren-class large landing ships.
However, it is not all bad. Submarine production is unlikely to be affected by sanctions.  Following many years of indecision, both the nuclear and diesel-electric programmes are on surer foundations.  Project 22800 Karakurt-class small missile ships (RTOs) (fitted with the domestic M507D engine built by the St Petersburg Zvezda PJSC); and Project 21631 Buyan-M-class RTOs (fitted with a Chinese engine) also appear secure.  Anti-submarine warfare capabilities are inferior to Western counterparts and air defence is a recognised weakness but both classes are Kalibr-NK capable and pose a long range strike threat.  Ice-capable vessels, including nuclear ice-breakers, will continue to be a niche in Russian ship-building.
The Russian defence budget has increased by 40% but the spending is on priority items for a floundering land war.  Naval procurement is not a priority.  Project 22360 frigate Admiral Golovko is currently undertaking sea trails.  Project 20380 Steregushchiy-class corvette Merkury has recently completed firing tests and will be commissioned in the first half of this year.  Project 22800 Karakurt-class small missile ship Burya is undertaking trials in the Baltic.  Karakurt-class Askold has also started trials in the Black Sea. The veteran Project 11540 Neustrashimy patrol ship5 (TFR) (a former Baltic Fleet flagship) has completed modernisation and will re-enter the fleet.  At the current rate of activity, 2023 will likely be another lean year.
Cover photo: Admiral Gorshkov Russian frigate By Mil.ru, CC BY 4.0, https://commons.wikimedia.org/w/index.php?curid=70908276
Sergio Miller is a retired British Army Intelligence Corps officer.  He was a regular contributor and book reviewer for British Army Review.  He is the author of a two-part history of the Vietnam War (Osprey/Bloomsbury) and is currently drafting a history of the Russian invasion of Ukraine.
Footnotes